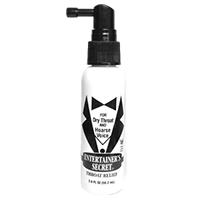 Entertainer's Secret (Throat Spray)
Relief for Throat Discomfort, Hoarse Voice and Congestion Caused by Excessive Dryness. Throat spray for singers.
Are you experiencing throat irritation? Do annoying allergies or other respiratory problems bring on those inevitable episodes of dry, sore throat and scratchy, hoarse voice? Do you spend a lot of time speaking, singing, lecturing, selling, teaching, presenting, cheering, telephoning, preaching, performing, announcing, or just talking...
If so, you've found the right product! Since your voice is what everyone hears first, you owe it to your listeners and yourself to sound and feel your very best. Don't worry, throat relief can be found in highest selling vocal spray Entertainer's Secret.