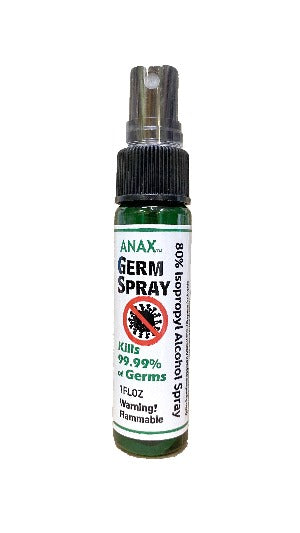 Germ Spray
Germ Spray comes in a convenient, easy to use to spray bottle that fits neatly into your pocket or purse. 
CONTAINS: 80% Isopropyl Alcohol (20% more than the CDC minimum requirement)
KILLS 99.99% of Germs
Active Ingredient: Isopropyl Alcohol 80% / Purpose: Antiseptic
Uses: Help Prevent the risk of infections due to germs.
Directions: Used to kill 99.9% of germs on contact. Spray on palms and rub together. Spray on contaminated colorfast surfaces and wipe or air dry.
Warnings: *Flammable - Keep away from fire or flame, heat, spark, electrical. 
Keep out of reach of children. Do not get in eyes. If swallowed get immediate medical help or call Poison Control Center. For External Use Only.
While Using This Product: Only a light spray is needed to be effective. Use on hands and publics surfaces like door handles, railings, chairs, etc. If adverse reaction occurs, stop use. 
Other Ingredients: Purified Water, Vegetable Glycerin.