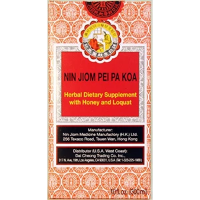 Nin Jiom Pei Pa Koa - Sore Throat Syrup - 100% Natural
Mailbox Toluca Lake Insight
This product is a staple in the industry. It is the #1 recommended product for most ailments as it treats sore throats, coughing, phlegm, and many other symptoms. Its derived from the loquat fruit and has a thick molasses type consistency. Due to its viscosity it provides a great barrier to prevent airborne particles from irritating the throat as well as protecting the throat from vicious coughing whilst catching and washing away phlegm. 
Best Use: Recovery
Due to the menthol in this product it is highly recommended for recovery purposes. This can include recovery from overuse or sickness.  The menthol provides soothing relief and is best taken in its natural form.
Instructions
Take 1-3 teaspoons daily during recovery.  

For best results
 avoid eating or drinking AFTER using this product as this will wash it away thereby reducing its effectiveness.
Special Use Case
Although not recommended, some professionals, especially in the video game voice over category have reported using this product while performing for additional protection against extreme and unnatural use.  

All Natural Herbal Sore Throat Remedy

Ingredients: 

Elm bark, honey, loquat leaf, fritillary, balloon flower root, snakegourd seed, sand root, senega root, tuckahoe, licorice root, ginger root, five flavored seed and peppermint.