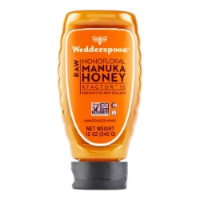 Raw Monofloral Manuka Honey KFactor 16 (Squeeze Bottle)
Our best-selling KFactor 16 Monofloral Manuka Honey, now in an easy-to-use, no drip squeeze bottle for added convenience. Authentic, raw, Non-GMO Project Verified Manuka Honey is perfect by the spoonful, in food pairings, in DIY beauty regimens, in-home "remedies" or pre/post workout for natural energy. Sourced and packed in New Zealand for authenticity and traceability, KFactor 16 Monofloral Manuka Honey is guaranteed to meet or exceed the Monofloral Manuka Standard from the New Zealand Government.
Free of antibiotics, pesticides, and glyphosate.