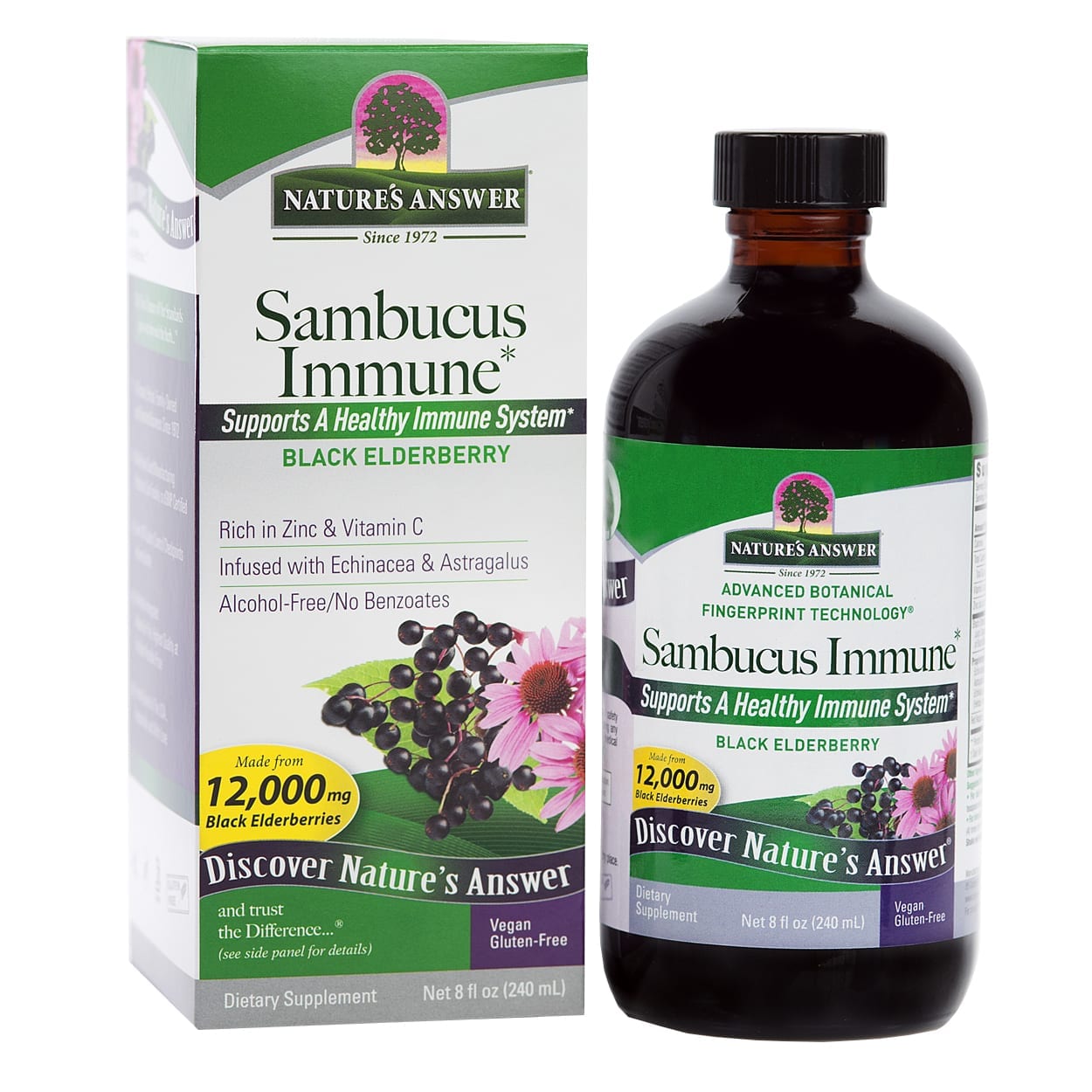 Sambucus Immune Support 8 Oz
Powerful Immune Support*
Pure Black Elderberry Extract
Super Concentrated 12,000mg (herbal equivalent) per serving
Elderberries Provide Twice The Antioxidants of Blueberries and More Antioxidants than Blackberries
Rigorously Tested
Over 40-year Passion for Quality
No Alcohol, Gluten Free, Kosher, Vegetarian, Vegan
Nature's Answer Sambucus Super Concentrated Black Elderberry Extract gives you all the antioxidant power of the Elderberry – the berry with two times the antioxidants of blueberries and more antioxidants than blackberries, cranberries and goji berries.*
By using a unique extraction technique inspired by the company's founder that captures and preserves the holistic balance of the elderberry, as well as their patented Advanced Botanical Fingerprint technology which verifies the quality and purity of every incoming botanical, Nature's Answer maximizes the elderberry's natural health benefits.*
Nature's Answer Sambucus Super Concentrated Black Elderberry Extract is perfect for supporting your immune system all year long.* It's gluten free, Kosher, Vegetarian, Vegan and has no alcohol. Enjoy it by the spoonful, brew it in tea, or infuse it into a smoothie or juice. Whatever the season, you're getting the ultimate in antioxidants.
The Assurance of Nature's Answer "Advanced Botanical Fingerprint" Technology™
Nature's Answer Advanced Botanical Fingerprint Technology™ assures you of the quality of the botanical ingredients in every Nature's Answer product. By creating one of the most comprehensive collections of plant specimens in the world and identifying each plant's distinctive botanical fingerprint, Nature's Answer can compare and analyze the quality and purity of every incoming botanical used to formulate their products, assuring you of products that contain only the purest, highest-quality botanical ingredients.
Enjoy all the healthy benefits of Nature's Answer Sambucus in so many delicious ways!